In this fast moving society, there seems to be a never ending list of things to do – juggling work, housework, family and children. When the going gets tough, and the clock feels like it is being set to fast-forward, it is almost natural to take time off to care for ourselves.
Maintaining better health from the inside out should be the priority of a busy woman, and it should not be a time-consuming, cumbersome process. LAC, the Leader in Antioxidative Control™, introduces its LAC Taut® Radiance+ Premium Collagen Mask and LAC® BrainSpeed. The fast-acting, efficient formulas of these products not only nourishes a busy woman skin deep, but also nutrifies the brains, improving focus and concentration for the hectic everyday-life.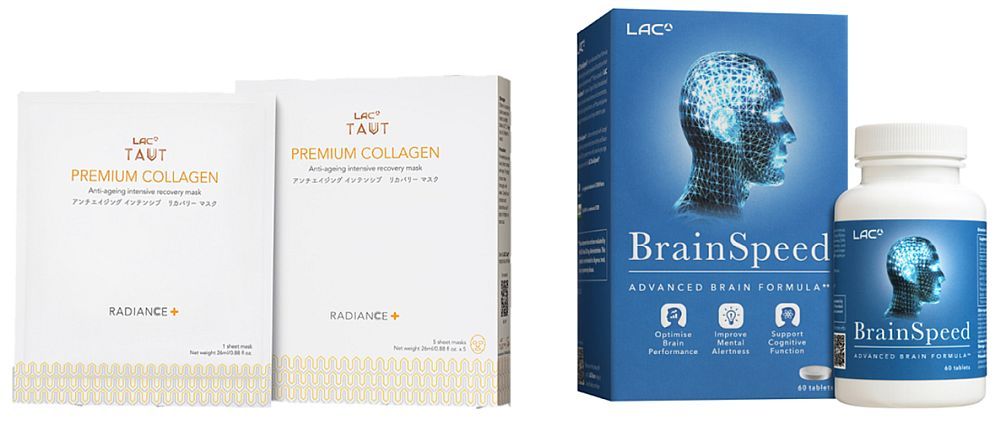 LAC Taut® Radiance+ Premium Collagen Mask
The LAC Taut® Radiance+ Premium Collagen Mask is not only a luxurious and high-intensity treat for tired, dehydrated skin, its premium collagen-enriched essence is set to rejuvenate skin textures within a mere seven to ten minutes. Specially formulated with a unique and concentrated blend of hydrolyzed collagen, squalane, hyaluronic acid and antioxidants, skin instantly feels velvety smooth, supple and lifted.
LAC® BrainSpeed
Managing multiple roles often causes us to lose focus and concentration. Also, as we age, so do our brains.
LAC® BrainSpeed invigorates the brain for optimal mental performance with its advanced brain formula. Made with nourishing ingredients containing Ginkgo leaf extract with 24% Ginkgo flavone glycosides and Vitamin B3, BrainSpeed is the perfect supplement to energise the brain by promoting blood and oxygen circulation.
Fast-acting and effective, this energising formula is packaged into caplets. With only a simple step added to our daily regime, BrainSpeed helps the busiest women reduce instances of forgetfulness, promotes ability to cope with mental stress and healthy mood balance, allowing them to take on the world.
About LAC Global
Headquartered in Singapore, LAC Global is one of Asia's largest speciality retailers in nutritional supplements, vitamins, minerals, herbal, and other speciality supplements in Anti-ageing and Beauty, Immunity, Weight Management, Sports Nutrition, and Energy.
The Company owns the LAC brand, short for Leader in Antioxidative Control™, a leading health and wellness supplement brand with a global presence. Since its founding, LAC has embarked on a pioneering journey to develop scientifically based formulas, harnessing the best of eastern wisdom and western technology to fight free radicals, combat ageing brought forth by oxidative stress, and support you daily in looking, feeling, and functioning at your best. Having established a global presence since 1997, LAC's reach includes Singapore, Malaysia, Taiwan, Philippines, China, Japan, Vietnam, Myanmar, USA, Central & South Americas, and the Middle East. Currently, there are more than 220 LAC branded stores in Singapore, Malaysia, Philippines and Taiwan ROC. LAC stringently sources ingredients from around the globe, such as USA, Japan, France, Australia, New Zealand and Switzerland to ensure utmost quality, and works only with the most specialised partners in developing and manufacturing health solutions.
Its other brands include Xndo Food For Health. LAC Global is dedicated to ensuring consumers stay well, and live life to the fullest.
Website: LAC.sg
Instagram: @LACGlobalSingapore
Facebook: @LACGlobalSingapore