Indonesia will focus on six key issues for the 10th World Water Forum (WWF), jointly organized by the World Water Council and the Republic of Indonesia and set to take place from May 18 to 24, 2024, in Bali. Speaking at the WWF Kick-off Meeting in Jakarta on Wednesday, vice-chairman of the WWF National Organizing Committee Basuki Hadimuljono framed the agenda which will guide discussions over the next 15 months.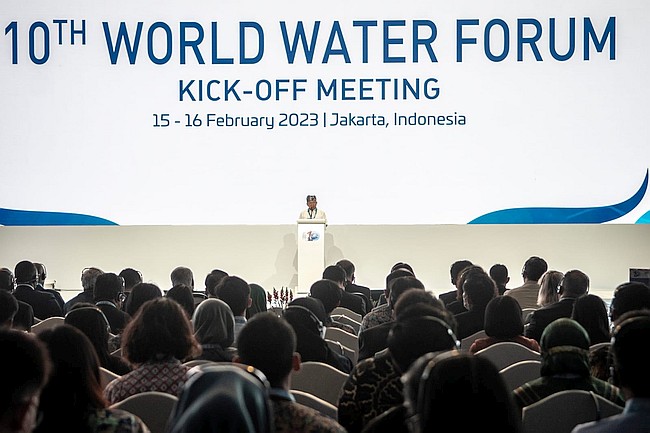 "In this Kick-off Meeting, we will lay out the major water resource problems, namely Water for Humans and Nature; Water Security and Prosperity; Disaster Risk Reduction and Management; Cooperation and Hydro-diplomacy; Water and Innovative Finance; as well as Knowledge and Innovation," said Hadimuljono, who also serves as Minister of Public Works and Public Housing (PUPR).
Measured discussion of the issues will be conducted through political, thematic, and regional processes, necessitating deliberation to find solutions, innovation, and implementation of action plans. The Indonesian government will be actively promoting the WWF agenda next month, during participation at the UN Water Conference in New York City from March 22 to 24, where it is entrusted to host both side, and special, events.
President Joko Widodo (Jokowi) stated his expectation that the 10th World Water Forum (WWF) yield concrete recommendations on overcoming the global water crisis. "These agendas must be addressed as joint efforts, through community participation and support from various stakeholders, as well as dialogue and partnerships between countries in the spirit of togetherness for the welfare of the global community," said Jokowi.
The President, who received the World Water Council Delegation at Merdeka Palace on Wednesday, said he believed the 10th World Water Forum would be more than an ordinary conference and would produce concrete recommendations for action
Loic Fauchon lauded the support of President Jokowi and various Indonesian stakeholders in the water sector, as they prepared to implement the WWF. "We have to prepare for the next World Water Forum, which will be held in Bali next year. Together, while coordinating implementation of the 10th WWF, we will strive to provide fresh solutions, which will help to increase the access to water for billions of people," Fauchon stated.
WWF is the largest cross-border event that discusses issues related to water resources and serves as a forum for sharing experiences and innovations to respond to various challenges in global water management. Indonesia has formed the National Organizing Committee for the 10th WWF, comprising various ministries and supported by experts and professors in the field of water-related issues from reputable universities in Indonesia.
The Kick-off Meeting, which was also the 1st stakeholders meeting, and attended by 1,300 delegates from 56 countries, aimed to provide essential information to mobilize and engage the stakeholders in the WWF process until the forum officially begins in March next year. The event will continue with regular pre-summit discussions and workshops to find concrete solutions, with solid innovation, addressing global water problems and setting the stage for a successful 10th WWF.
Source: World Water Forum, https://worldwaterforum.org
President Jokowi's Opening Address: https://youtu.be/viTmrYGUSvk