The leading B2B esports events and media company, Esports Insider, and Singapore-based esports marketing agency, Redd+E, are proud to announce the first wave of esteemed speakers for the upcoming ESI Singapore esports industry conference. Set to take place on 20-21 June at the Asian Civilisations Museum, ESI Singapore is set to provide attendees with valuable insights, networking opportunities, and thought-provoking discussions on the future of esports and beyond.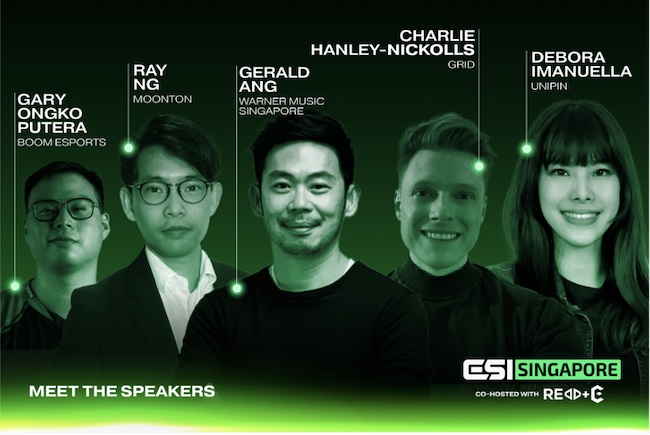 Among the prominent speakers who will grace the stage at ESI Singapore 2023 are:
Joe Jenkins – Head of Esports, IMG Media
Timo Krueger – Commercial Director Esports & Gaming, Nielsen
Gerald Ang – Managing Director, Warner Music Singapore
Ray Ng – Head of Esports Ecosystem, MOONTON Games
Jarrold Tham – Co-Founder, Talon Esports
Gary Ongko Putera – CEO, BOOM Esports
Debora Imanuella – Senior Vice President, UniPin Global
Oh Teck Wee – CFO, Affyn
Charlie Hanley-Nickolls – Chief Product Officer, GRID
Benedikt Becker – Director of Sales and Marketing, Shikenso Analytics
Gerald Solomon – Founder & Executive Director, NASEF
Mervyn Lai – Managing Director, Playbook Academy
Abdiqani Ahmed – Founder, Lionscreed Esports
These industry leaders, along with many more yet to be announced, will share their expertise, discuss emerging trends, and provide valuable insights into the ever-evolving world of esports, video games and Web3.
Sam Cooke, Managing Director of Esports Insider commented, "We are thrilled to unveil such an exceptional lineup of speakers for ESI Singapore 2023. Each speaker brings a unique perspective and extensive experience in their respective fields, ensuring that attendees will gain valuable knowledge and insights."
ESI Singapore 2023 will offer a diverse range of topics across key tracks such as Commercialisation, Revenues & Investment; Web3; Community and Education. Attendees can look forward to engaging panel discussions and unparalleled networking opportunities, including an evening social at the exclusive ParkRoyal Collection Pickering hotel.
Co-host of #ESISG – Redd+E's Managing Director & Co-founder, Yip Ren Kai added, "The esports and gaming community in APAC is rapidly evolving. With a whole new slate of partners such as Warner Music, Krafton and MOONTON Games, the developers of highly popular PUBG and Mobile Legends Bang Bang (MLBB) respectively, we are excited for expanding the range of topics that we can cover in esports – expanding our horizons to include explorations into new areas such as music and education."
The event is supported by Singapore Exhibition & Convention Bureau and its partners including: Main Stage Sponsor GRID; Official AV Partner The Gym Esportscentre, Travel Partner Westpoint Transit; Event Partner Shikenso Analytics, Official Hotel Partner PARKROYAL COLLECTION Pickering, and media partners ACN Newswire, 80LV and Mailman Group. ESI Singapore is set to welcome over 400 attendees, with over 40+ speakers across more than 10 live sessions.
Full Passes, group and student tickets are still available here. To register or to learn more about the event, please visit https://esportsinsider.com/esi-singapore-2023/ . For special hotel rate for #ESISG attendees at PARKROYAL COLLECTION Pickering, Singapore, please book here.
About Esports Insider
Based in London and founded in 2016, Esports Insider is an industry-focused esports news platform, B2B agency, media and events company.
ESI runs a world-leading and international esports industry news site, operates The Esports Journal magazine and has run more industry events than any other company globally, from London to Los Angeles. Other arms of the company include ESI Media, as well as ESI Connect, its agency arm which offers services across Brokerage, Consultancy and Campaign Activation.
Website // Twitter // Facebook // Linkedin // Instagram // YouTube // Discord
About Redd+E
Redd+E, through its parent company Reddentes Sports, is a marketing agency that delivers smart and impactful solutions in the areas of esports.
Our services include media rights consulting, commercialisation development, event consulting, project management, organisational consultancy for sports associations, athlete management and marketing consultancy. Our goal is to provide services and value to transform organisations, businesses and communities by achieving their objectives through esports.
Facebook // Linkedin // Instagram // Website
Contacts:
General Enquiries:-info@esportsinsider.com
Event Enquiries: events@esportsinsider.com
PRs & pitches:- news@esportsinsider.com