The recently concluded Etail- Asia's Premier e-commerce and digital marketing retail summit, hosted by Worldwide Business Research (WBR), held on June 6-8, 2023 exceeded all expectations, attracting industry leaders, visionaries, and retail enthusiasts from around the globe. WBR started the eTail conversation in 1999 to create an impactful retail community. Since then, this platform has been fortunate to collaborate with thousands of retailers – from massive Fortune 500 institutions to small, scrappy startups – to deliver tangible and lasting growth to over 20,000 retail leaders. The country simultaneously witnessed another retail gathering Phygital Sundowner which was held on 7th June '23 at Osia Steak, Resorts Sentosa World.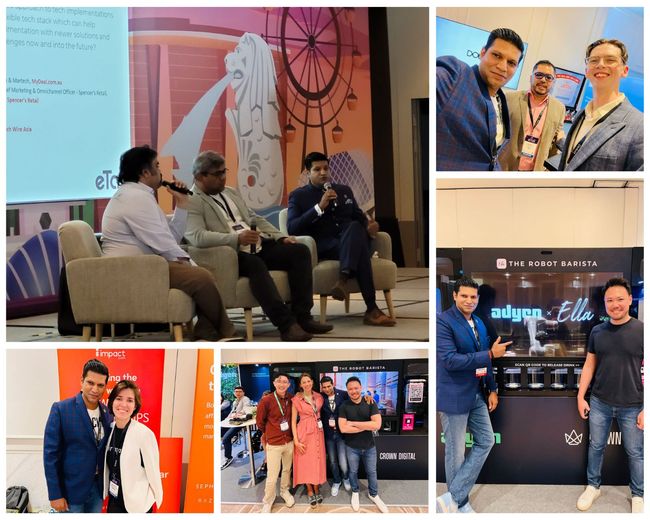 Etail Conclave 2023 and Phygital Sundowner witnessed an exceptional turnout, with participants representing various organizations, including established retail giants, innovative startups, and influential thought leaders. The platforms served as a dynamic stage for exchanging insights, fostering new connections, and collectively shaping the future of retail.
Harshavardhan Chauhaan, VP, Chief Marketing & Omnichannel Officer – Spencer's Retail & Nature's Basket, delivered an inspiring keynote at Etail Asia along with other esteemed industry experts, shedding light on the latest trends, challenges, and opportunities within the retail landscape. His thought-provoking vision for the industry left attendees inspired and equipped with valuable insights to drive their businesses forward. With a background in Computer Science Engineering and a track record of two decades of success in retail, eCommerce, and consumer business, Harshavardhan's keynote presented a wealth of experience and a clear vision to revolutionize the sector.
Harshavardhan quips, "Etail Conclave 2023 and Phygital Sundowner surpassed my expectations, and we are thrilled with the positive response it has received. Events like these are the need of the hour as they provide a platform for industry leaders, innovators, and retail enthusiasts to come together and shape the future of retail."
The conclave (Etail) featured a series of interactive panel discussions led by industry veterans, covering a wide range of topics, including digital transformation, sustainable practices, experiential retail, and consumer behaviour. Attendees actively participated, sharing their experiences, perspectives, and best practices, resulting in lively and productive discussions. Attendees at Phygital Sundowner had an opportunity to explore and experience first-hand the latest advancements shaping the retail industry, creating a truly immersive and inspiring environment.
Harshavardhan adds, "Sustainability lies at the core of my vision for South Asia's retail industry. I strongly recommend eco-friendly practices, reduced carbon footprint, and ethical sourcing and production. By encouraging retailers to embrace sustainable materials, energy-efficient operations, and responsible waste management, I aim to build an environmentally conscious and socially responsible ecosystem. Both the events had an extensive networking opportunity, enabling attendees to connect with like-minded professionals, forge valuable partnerships, and explore collaborative ventures."
About Mett.ai
Mett.ai is a dynamic and forward-thinking integrated 360 degree communications firm that is redefining the industry through innovative strategies and cutting-edge approaches in Asia. Based out of Singapore as a modern communications consultancy, we understand that the media landscape is rapidly evolving, and we are dedicated to staying ahead of the curve to ensure our clients' success.
At Mett.ai we pride ourselves on our ability to seamlessly blend traditional communications practices with an emerging digital trends. Our team of experienced professionals brings a wealth of expertise and a fresh perspective to every client engagement. We thrive on creativity, strategic thinking, and a deep understanding of our clients' goals, enabling us to deliver exceptional results that drive brand awareness, reputation enhancement, and increased visibility.
For more information, visit www.Mett.ai.
For further details contact:
Mett.ai Communications PTE Ltd
ganesh@mett.ai
M (+65) 9779 1286