What does the future of patient experience (PX) look like, and how do healthcare providers – working with limited resources – get there?
From what we hear from healthcare leaders, "patient-centricity" and "agility" will very much be at the heart of PX moving forward.
This means keeping a close ear on the ground to understand patients' evolving needs, as well as new emerging knowledge or tools, and quickly adapting and responding to them.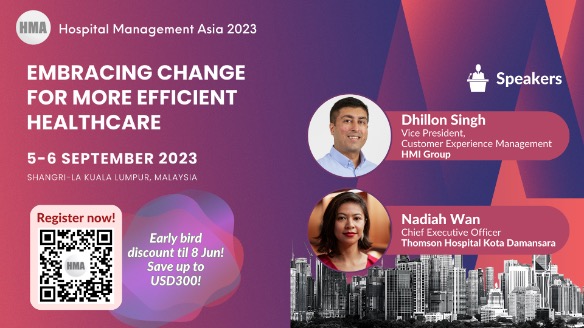 The future of patient experience will be one of the key topics of discussion at the Hospital Management Asia conference, coming up 5 to 6 September 2023 in Kuala Lumpur.
Speakers will delve into the concept of care pathways or integrated workflows across the patient journey: which starts from before the patient books an appointment and steps into the facility, to after they are discharged.
Key Speakers:
Nadiah Wan, Chief Executive Officer of Thomson Hospital Kota Damansara, will be sharing her hospital's work around establishing integrated workflows to enhance patient centricity.
Her hospital has built a real-time dashboard, which pulls together data across clinical and operational units, and across different patient touchpoints – allowing for quick data analysis to obtain actionable insights. With an integrated digital system combining access to medical records, billing processes and order supplies, the hospital now enjoys more seamless and efficient operations.
Dhillon Singh (Vice President, Customer Experience Management of HMI Group) will share how care providers can deliver more accessible stepdown care for patients after their discharge.
This includes providing patients with easy access to clinical advice post-discharge, whether they return home or are transferred to separate care facility; as well as making care information accessible to caregivers.
He will also speak on the role of digital platforms in enabling these. An example is creating a secure 'passport' holding the patient's health information, which secondary care providers can refer to for better and faster decision-making.
The case for improving patient experience goes beyond patient loyalty and business outcomes.
Several studies have shown the association between good patient experience and improved clinical outcomes. For example, patients who report good care experience and communication with providers adhere better to medical advice and treatment plans. Studies of heart attack patients showed that those who had more positive care experiences had better health outcomes a year after discharge.
For providers looking at ways to improve their PX, measuring their existing programme and identifying gaps is a good place to start.
Keen to improve patient experience at your facility? Hear from Dhillon and Nadiah at the session "Creating agile care pathways to future proof patient experience for both chronic and non-chronic diseases", part of the Patient Experience track at HMA 2023 conference.
Register at this link to book your slots today! Or check out the latest conference agenda here: https://www.hospitalmanagementasia.com/hma-2023/agenda/
Source (Organizer): Clarion Events, Hospital Management Asia
Media contact:
Yan Jun
yanjun.eu@clarionevents.com