The Most Advanced DeFi Trading Platform, Powered by Uniswap V3
In a major leap forward for decentralized trading, GFX Labs has announced the launch of Oku. The innovative platform offers an intuitive yet robust interface for Uniswap v3, the leading decentralized exchange (DEX) protocol in the world of decentralized finance (DeFi).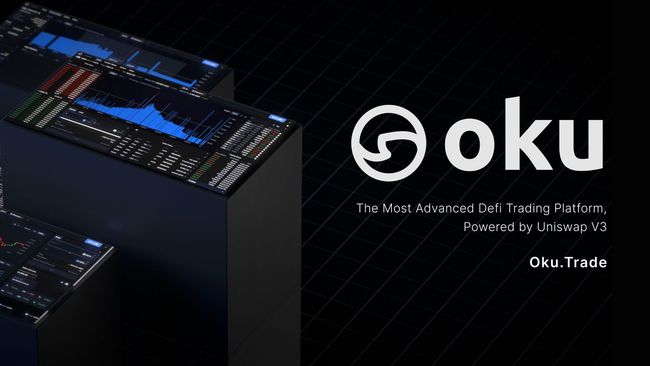 Born from the need to improve the underwhelming trading interface of existing DEX protocols, GFX Labs was awarded a $1.6 million grant by the Uniswap Foundation to tackle this challenge and establish Oku. The platform addresses the needs of pro-retail traders by offering advanced features typically found in traditional exchanges such as Binance or Coinbase, including order books, price charts, depth charts, trading history, user order history, and more.
"After a year of growing mistrust in centralized institutions, Oku presents a compelling solution for traders combining the security and trust of the Uniswap Protocol with the speed and creature comforts of a centralized exchange. The Uniswap Foundation is proud of the work done by GFX Labs and is excited for crypto traders around the world to level up their DEX trading experience," says Devin Walsh, the Executive Director at the Uniswap Foundation.
Oku is available on Ethereum, Polygon, Arbitrum, and Optimism, with more chains coming soon. Its interface supports all existing and new Uniswap v3 pools, and no token listing request is required, unlike traditional exchanges. The platform dramatically surpasses the industry standard, boasting a comprehensive and speedy analytics site that offers detailed pool, position, and token information. In addition, it brings the capability for limit orders that can be configured for any pool, reshaping the expectations for user accessibility and experience in the process.
The platform's trader-oriented design allows users to switch between markets quickly and efficiently, track their historical activity, and view live trading. Users can place bids and offers at specific prices, and don't need to be present for their fulfillment, a feature unique to Oku's trading system.
"As the first robust trading infrastructure built upon the advanced Uniswap v3 protocol, Oku is poised to rival the industry's leading centralized exchanges. Simultaneously, Oku sets itself apart with a user-friendly interface and intuitive design, making complex trading operations straightforward and visually appealing," affirmed the Oku team.
About Oku
Experience the future of decentralized trading with Oku, a front-end built for the Uniswap v3 protocol and seeded by the Uniswap Foundation. Oku goes beyond the standard trading interface, offering professional-grade features like live order books, detailed price charts, advanced limit orders, and a customizable favorite markets list. Designed with an intuitive interface that caters to both novice and experienced traders, Oku seeks to fill the gap between Uniswap and traditional exchanges. Our commitment is to enhance the DeFi user experience and pioneer the next generation of trading, making the transition from centralized to decentralized platforms seamless and empowering. For more information, visit https://oku.trade.
Contact Information
Michael Herron
Head of Marketing
mherron@gfxlabs.io
Related Video
https://www.youtube.com/watch?v=6XPRsFScCvQ