Philippines, the third-largest contact center outsourcing destination, is gearing up to host the 11th edition of the World CX Summit, organized by Trescon. The premier customer experience event brings together leading CX professionals and experts to help businesses and brands provide a seamless customer experience journey using the latest trends and technologies that dominate the market.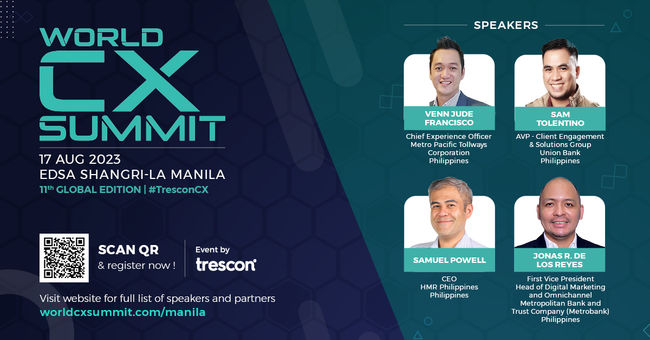 After successfully hosting over 15,000 CX thought leaders, innovators, specialists and key stakeholders in over 10 editions, the World CX Summit has established itself as a premier knowledge sharing platform to share actionable insights about the latest trends and technologies in delivering a memorable customer experience. At the event, attendees will engage in insightful sessions, listen to captivating keynotes, and draw inspiration from successful use-cases to transform their CX strategies.
At the 11th global edition of the World CX Summit, the attendees will witness the fusion of cutting-edge technologies and customer insights while helping them focus on how to amplify customer experience, pioneering personalization at scale, cracking the code of CX ROI along with other key topics. Fostering a spirit of knowledge-sharing and innovation, the event facilitates networking opportunities and forge impactful relationship to accelerate the adoption of the latest technologies to optimize customer experience strategies.
The notable speakers attending the event include:
– Venn Jude Francisco, Chief Experience Officer, Metro Pacific Tollways Corporation, Philippines
– Sam Tolentino, Assistant Vice President – Client Engagement & Solutions Group, Union Bank, Philippines
– Melody Lim, Head of Customer Experience, Aboitiz Power Philippines
– Hazel Montano-Zamora, CX Design Head, AIA Philippines, Philippines
– Godfrey Santos, Assistant Vice President- Customer Experience, PETNET Inc.
– Tara Cabullo, Head of Customer and Investments Digital Experience, GCash, Philippines
– Samuel Powell, CEO, HMR Philippines, Philippines
– Warren Ilustre, Head of Customer Experience, East West Bank, Philippines
– Dan Ramirez, SVP and Head of Transformation, ING, Philippines
– Jonas R. De Los Reyes, First Vice President, Head of Digital Marketing and Omnichannel, Metrobank and Trust Company (Metrobank), Philippines
Naveen Bharadwaj, Group CEO, Trescon shared his excitement about the upcoming event stating, "The Philippines' expanding CX market and economic growth made it an ideal choice to host the latest edition of the World CX Summit. We are committed to supporting the continued digital transformation of the market by undertaking the mandates and requirements of local government and enterprise stakeholders and facilitating their introductions to the world's leading solution and service providers."
On being a part of the Summit, one of the key speakers, Venn Jude Francisco said, "The World CX Summit provides a venue that will foster much needed collaborations which can hopefully spark meaningful innovation in customer experience across regions."
Sam Tolentino, AVP‐ Client Engagement & Solutions Group, Union Bank expressed his excitement about the Summit saying, "The World CX Summit will play a pivotal role in elevating local CX to exceed global standards."
About Trescon
Trescon is a pioneering force in the global business events and services sector, driving the adoption of emerging technologies while promoting sustainability and inclusive leadership. Its summits, expos, and conferences create real economic impact by connecting and empowering key stakeholders, including government organizations, regulators, enterprises, corporates, and more. With a team of over 250 employees across offices in 6 countries, Trescon has helped clients achieve exponential growth, accelerate market entry, and build valuable partnerships. For more information about Trescon, visit: www.tresconglobal.com
Trescon is glad to announce a new mega tech show called Digital Acceleration and Transformation Expo (DATE) scheduled to take place in Delhi in November 2023 and Jakarta in 2024. For further information about DATE, visit: www.datewithtech.com
For media inquiries, please contact:
Nupur Aswani
Head – Media, PR and Corporate Communications, Trescon
+91 95559 15156 | media@tresconglobal.com