Buoyed by an increase in inbound Japanese tourists post pandemic, merchants will now be able to accept JCB Card payments from consumers
KUALA LUMPUR & TOKYO, Aug 2, 2023 – (JCN Newswire) – Leading fintech-as-a-service provider, Soft Space Sdn Bhd ("Soft Space"), JCB International Co., Ltd.("JCBI"), the international operations subsidiary of JCB Co., Ltd., Japan's leading international payment brand, and Hong Leong Bank ("HLB") have joined forces to actively drive JCB Card acceptance in Malaysia, bolstered by strong post pandemic economy recovery prospects.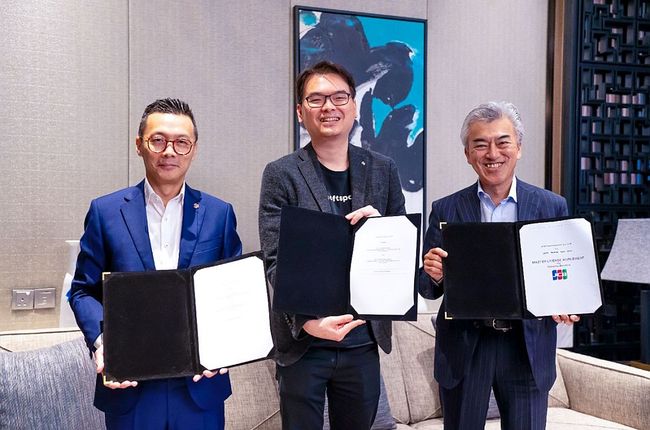 (left to right) Andrew Jong (HLB), Joel Tay (Soft Space) and Yoshiki Kaneko (JCBI) signed a tripartite partnership to expand JCB Card acceptance in Malaysia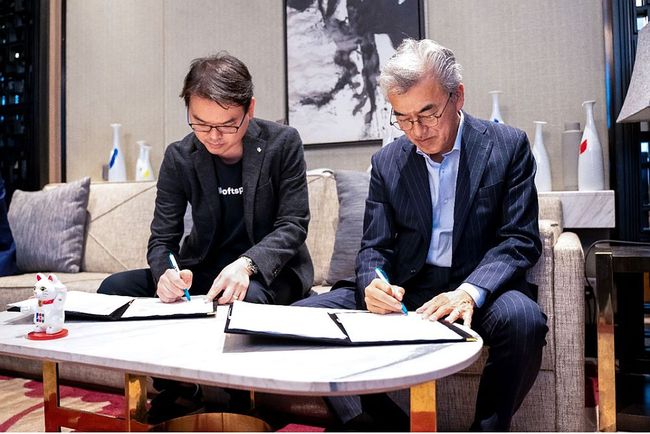 Joel Tay of Soft Space (left) and Yoshiki Kaneko of JCBI sign the Master Licence Agreement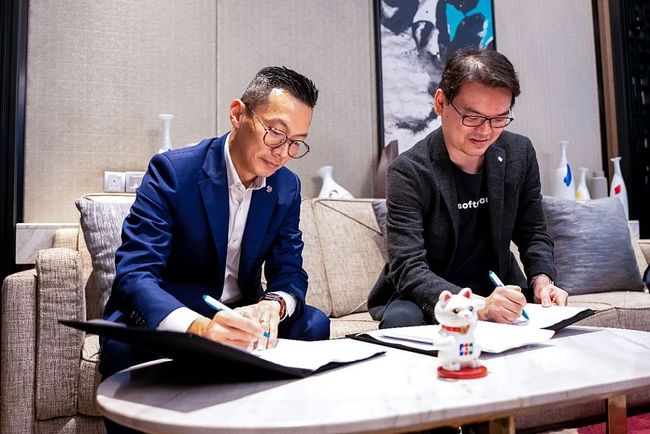 Andrew Jong of HLB (left) and Joel Tay of Soft Space sign the Sub-Licence Agreement
As the Malaysian economy continues to grow positively[1] in 2023, tourism has emerged as one of the brightest sectors spearheading the recovery process, with Japan listed as one of the top 10 contributors to tourist arrivals and spending in Malaysia.[2] Malaysia targets to welcome 16.1 million international tourist arrivals and generate RM49.2 billion (US$10.89 billion) in tourist receipts in 2023.[3]
To capitalise on this bright recovery prospect, Soft Space and JCBI recently signed an agreement to enable Soft Space to work with local acquirers, such as HLB, to promote JCB Card acceptance in Malaysia. Sofitel Kuala Lumpur Damansara, a hotel in Kuala Lumpur, is one of HLB's merchants that has begun accepting JCB Card payments.
"As Japanese tourist arrivals in Malaysia begin to ramp up again, we are pleased to be able to enable and promote cross-border payments between Japan and Malaysia via our partners," said Joel Tay, Chief Executive Officer of Soft Space. "This merely represents a first step in our ambition to roll out similar agreements in Southeast Asia, boosting JCB Card acceptance and riding on the wave of increasing contactless card payments in the region."
"We decided to expand the collaboration with another global leader who shares similar values in enhancing user experience through state-of-the-art technological application," said Yoshiki Kaneko, President and Chief Executive Officer of JCB International Co., Ltd.
"Malaysia has been an important destination country for our card members across the regions. Establishing a partnership with HLB is a huge step forward for the expansion of JCB acceptance network in Malaysia. We can now better serve JCB Card members coming to Malaysia not only from Japan, but also from the ASEAN region where we have more than 10 million card members. I am especially delighted as this achievement has been brought via a unique tripartite collaboration including Soft Space. Leveraging on today's success, we are further strengthening our presence in the entire ASEAN region through this partnership with Soft Space."
According to Andrew Jong, Managing Director of Personal Financial Services at HLB, this partnership with JCB and Soft Space signifies the Bank's commitment to providing financial products and services that are centred around the needs of both its merchants and their customers.
"With an influx of tourists and expats coming from Japan into Malaysia, the option to accept JCB Cards will ensure convenience for its cardholders and provide businesses with an additional opportunity to capture more tourists and grow their business. This partnership will enable us to serve the customers who are increasingly going cashless as well as help our merchants increase their sales and customer transaction value."
The agreement showcases the partnership progress between JCB and Soft Space since the former investment in the fintech in January 2022[4]. This includes a series of business collaborations that are aimed at leveraging on Soft Space's fintech-as-a-service business model, technology and regulatory knowhow, and JCB's global recognition, vast alliances and brand reach.
The promotion of JCB Card acceptance in Malaysia also signals the expansion of its merchant network, the establishment of card issuing solutions, and the provision of customer marketing solutions in Malaysia, and later in Southeast Asia.
About Soft Space
Founded in 2012, Soft Space is the world's leading SoftPOS player headquartered in Kuala Lumpur, Malaysia. Soft Space simplified the complexity of financial infrastructure and creates value-added features for businesses to expand their business growth. With over 70 financial institutions and partners across 23 global markets adopting its payment solutions, Soft Space is supported by MDEC's Global Acceleration and Innovative Network (GAIN) programme and received financial support through MIDA's Domestic Investment Strategic Fund in 2014. In 2018, Soft Space ranked 66th out of 1000 companies in Financial Times 'FT 1000: High Growth Companies in Asia Pacific' Special Report. Subsequently in 2020, Soft Space is also recognised as one of IDC's Fastest Growing Company. For more information, please visit: https://www.softspace.com.my
For any media enquiries about Soft Space, kindly contact:
Paris Ashiqin (Ms.)
Corporate Communications & Public Relations Specialist
Email: paris.ashiqin@softspace.com.my/communications@softspace.com.my
HP: +6010-407 9948
About JCB
JCB is a major global payment brand and a leading credit card issuer and acquirer in Japan. JCB launched its card business in Japan in 1961 and began expanding worldwide in 1981. Its acceptance network includes about 43 million merchants around the world. JCB Cards are now issued mainly in Asian countries and territories, with more than 154 million cardmembers. As part of its international growth strategy, JCB has formed alliances with hundreds of leading banks and financial institutions globally to increase its merchant coverage and cardmember base. As a comprehensive payment solution provider, JCB commits to providing responsive and high-quality service and products to all customers worldwide. For more information, please visit: www.global.jcb/en/
For any media enquiries about JCB, kindly contact:
Ayaka Nakajima (Ms.)
Corporate Communications
Email: jcb-pr@info.jcb.co.jp
Tel: +81-3-5778-8353
About Hong Leong Bank Berhad
Hong Leong Bank Berhad is one of the leading financial services organisations in Malaysia. With a heritage of more than 115 years, it provides comprehensive financial services covering consumer banking, business banking and trade finance, treasury, branch and transaction banking, wealth management, private banking and Islamic financial services. Hong Leong Bank, which has won awards for its innovations in the financial services space, also has one of the largest service and distribution network of branches and business centers in Malaysia.
With a proven track record in value creation and a highly recognised brand, Hong Leong Bank has also been extending its footprint in the region, with branches in Singapore and Hong Kong and wholly owned subsidiaries in Vietnam and Cambodia. In China, the Bank is a substantial shareholder in Bank of Chengdu Co., Ltd., Sichuan.
Hong Leong Bank is a subsidiary of Hong Leong Financial Group Berhad, the financial services arm of the Hong Leong Group. Apart from banking, Hong Leong Financial Group is involved in the provision of insurance and takaful, as well as investment banking, unit trust, fund management and stock broking services.
For further information, please visit www.hlb.com.my or contact:
Vivian Tan
Corporate Communication & CSR
DID: +6032081 8888 Extn 61914
Email: viviantan@hlbb.hongleong.com.my
Derrick Pang
Corporate Communication
Email: derrickpangcm@hlbb.hongleong.com.my
[1] https://www.bnm.gov.my/-/qb23q1_en_pr
[2] https://www.tourism.gov.my/media/view/tourism-malaysia-returns-to-participate-in-tourism-expo-japan-tej-2022
[3] https://www.tourism.gov.my/media/view/tourism-malaysia-returns-to-the-arabian-travel-market-for-the-29th-year-1
[4] Soft Space Enters Into Strategic Partnership with JCB – Soft Space https://www.softspace.com.my/2022/01/13/soft-space-enters-into-strategic-partnership-with-jcb/