A bioconversion waste processing facility, which uses the black soldier fly (Hermetia illucens) as its biological agent, has opened at Cibubur Rest Area, Jakarta. The rest area is managed by Korindo Group subsidiary PT Bimaruna Marga Jaya and is the first in Indonesia to own a waste processing center. The center is designed to tackle daily waste issues in the Rest Area, by temporarily storing and preparing organic waste for recycling.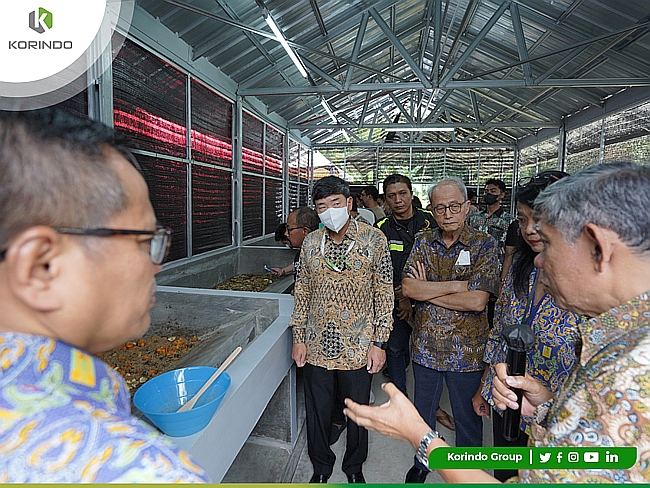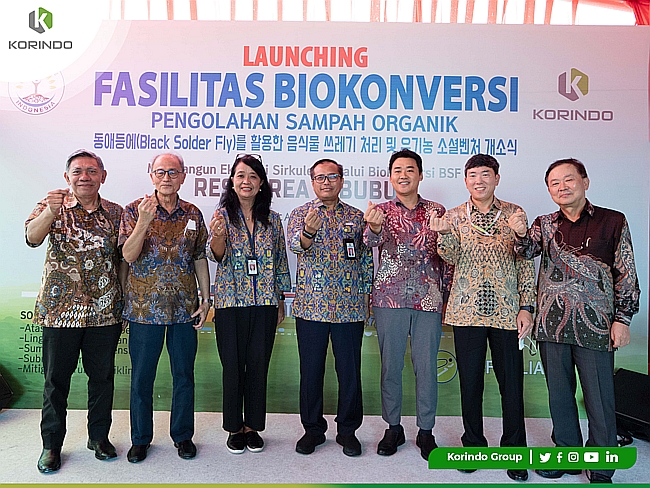 The Korindo Foundation and Forest For Life Indonesia Foundation (FFLI), together with the Public Works and Housing Ministry of Indonesia, launched the facility on Wednesday (Feb 1). With the stakeholders attending, the ceremony served to introduce black soldier fly-based bioconversion technology, which is expected to resolve waste management challenges at other rest stops and public establishments.
Made under the partnership of Korindo Foundation and FFLI Foundation, the plant can handle up to 1 ton of living waste per day. Cibubur Rest Area was picked as the project location, given its position as a waste source that needs urgent solutions. This conversion technique is also applicable to different types of waste sources like traditional markets, industrial zones, offices, and residential areas.
"Other than being environmentally beneficial, this facility can offer new economic opportunities. Profits gained from this project will be channeled into community and environmental empowerment programs," explained Robert Seung, chairman of Korindo Foundation. He wished the plant would reach the success of its predecessor, a similar plant with a 4 ton per day waste processing capacity in Lombok, West Nusa Tenggara.
That project was funded by the Korindo Foundation in 2017, with the FFLI teaming up with the local government to monitor its operation until today, one of Lombok's waste disposal prototypes. "These facilities won't be able to run properly without our collaboration with FFLI and support from the local government. That being the case, from the depths of our hearts, we want to thank all parties for the great teamwork," Robert said.
He went on to say that through the Foundation, businesses under Korindo Group had truly participated in efforts to bring back the balance in Indonesia's natural environment."Korindo Foundation has directly taken part in environmental preservation projects like Pakansari and Pondok Rajeg city forests and conservation activities in Papua. Through these breakthroughs, we strive to contribute to the local community and the environment,"
Head of FFLI Dr. Hadi Pasaribu said the plant did not only create a clean, healthy environment to be in and work out waste issues right at its source; it also provided protein, fat, and chitin, restored soil fertility, and played a role in mitigating climate change effects. "The more bioconversion plants we build, the bigger the benefits will be for our environment," he said.
Black soldier flies enthusiast Prof. Agus Pakpahan shared a similar sentiment. He pushed for additional bioconversion plants to be built, so waste wouldn't have to be brought into the landfill. This approach established a clean and healthy environment, provided benefits for nature, and created a circular economy.
Pakpahan revealed that around 60%-70% of landfill waste was organic, meaning that settling the issue upstream would simplify the entire waste management process. In his statement, he also touched on local people's waste dumping behavior, saying, "Each and every one of us should be able to take care of our own waste," said Pakpahan.
Bioconversion with black soldier flies is a biological approach to manmade environmental problems that bases itself on the notion that nature is created in harmony and balance. The technology offers a way out of excessive living waste. It is relatively safe for the surrounding area and community. Of all 800 fly species on earth, the black soldier fly stands out for its non-pathogenic nature and the absence of disease agents.
In this method, black soldier fly larvae decomposes organic waste generated from human activities. After that, the insects can be used as fish or chicken feed for their high amino acids and protein content. In the end, this process forms a circular economy that creates new economic prospects.
About Korindo
Korindo Group (Korindo) was established in 1969, and consists of companies engaged in the field of natural
resources, industrial paper manufacturing, heavy industry, logistics, finance, and property. As one of the major
corporate groups in Indonesia, Korindo has contributed significantly to the nation's development in various ways.
Visit https://www.korindonews.com, and watch the video www.korindo.co.id/group-profile/.
Through Korindo Foundation, we have a responsibility for building sustainable communities in various fields through our Corporate Social Contribution (CSC) programs. Our CSC activities focus on strategic, systematic and sustainable programs through 5 main program pillars, namely Education, Health, Economics, Environment, and Infrastructure. Learn more at https://korindofoundation.com.