Investor Relations and Sustainable Development Co-create Long-term Value for Enterprises
The award presentation ceremony of Quam IR Awards 2022 (QIRA or The Awards) successfully took place on 12 June, 2023 at Four Seasons Hotel Hong Kong, recognizing investor relations teams that keep pace with the times in a rapidly changing environment, as well as outstanding enterprises with excellent sustainable development management.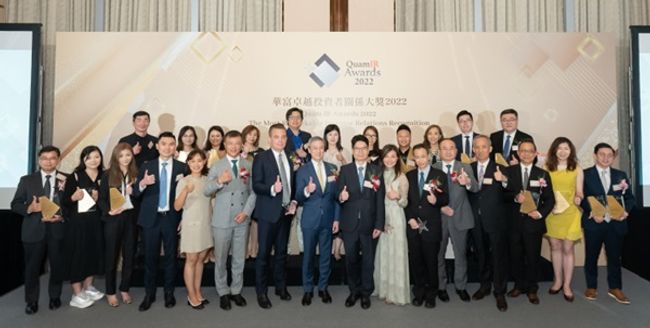 Praising Exceptional Investor Relations Contributions
Quam IR Awards is proud to recognize and reward the very best listed company in investor relations industry. The winners of the QIRA have opened the door of communication through diversified channels, representing the tact and professionalism of investor relations. The keen enthusiasm for the 8th Quam IR Awards can be seen from the entries. A total of 16 companies have differentiated themselves from their competitors to won the Awards.
Two Newly Introduced Awards to Commend Remarkable Carbon Management
To recognize the performance and contribution of organizations in the implementation of sustainable development goals, Quam IR has once again partnered with Hong Kong Sustainability Strategic Advisory Limited (HKSSA), an advisory firm focusing on enterprises' abilities of their sustainable development, to professionally select the winning companies in the "Sustainable Development Category" for the award to comment enterprises that have demonstrated outstanding overall performance in ESG aspects. In addition, this year, platinum, gold, and silver awards were added in the "Sustainable Development Category – Carbon Management", and "Sustainable Development Category- The Best Approach of Carbon Management of the Year" was newly introduced to recognize the outstanding performance of enterprises in energy conservation and carbon reduction.
Quam IR specifically invited Ms. Sandy Lam, Director of HKSSA, to share her insights on the "Four Key Elements of Effective Green Operations," and invited Mr. Chung Pak Wing, Sustainable1 Director – S&P Global Market Intelligence, to share his observation and analysis on the "Importance and Relevance of Corporate Sustainable Development Assessment."
Showing Resilience and Innovation to Shape a Sustainable future
Mr. Ambrose Lam, Co-Chairman of China Tonghai Capital (Holdings) Limited, said at the opening remark "The past year has been one of the most challenging periods in recent history, with the pandemic affecting every aspect of our lives. However, even in the face of adversity, we have seen companies demonstrate outstanding investor relations best practices. They have shown great resilience and innovation in adapting to the new reality, building trust and confidence among investors." Mr. Stacey Wong, Chief Operating and Risk Officer of Tonghai Financial Group, said "We have seen the increasing importance of ESG factors in shaping the future of business and society. ESG considerations are no longer optional; they are essential to creating a sustainable future for all. In recognizing the achievements of our winners today, we must also acknowledge their contributions to IR and ESG best practices. They have demonstrated that businesses can be successful while also being responsible and sustainable."
Unwavering Support from Business Community and Media friends
Quam IR was honoured to invite Mr. Joseph Chan, JP, Under Secretary for Financial Services, Ms. Christine Ho, Deputy Global Head of Family Office, InvestHK, Professor LO Wing-hung, Carlos, Professor and Head of Department of Government and Public Administration at CUHK and Director of Centre for Business Sustainability and Mr. Colin Shaftesley, Chairman of the Hong Kong Securities and Investment Institute as our guests of honour to witness such grand occasion.
The 8th Quam IR Awards came to a successful conclusion, thanks to our supporters in the business community, media friends and sponsors in Hong Kong and mainland China. Our supporting media partners include The Chamber of Hong Kong Listed Companies, The Hong Kong Independent Non-Executive Director Association, Ming Pao, The Standard, FX678 and Caiguu. Quam IR is grateful for the strong support and generous sponsorship from HKTaxi, which make Quam IR Awards 2022 a success.
The list of awardees for Quam IR Awards 2022 (In alphabetical order of company name):
Stock Code Company Name
Hong Kong Index Constituents (Hang Seng Index) Category
2020 ANTA Sports Products Limited
1929 Chow Tai Fook Jewellery Group
0992 Lenovo Group Limited
2382 Sunny Optical Technology (Group) Company Limited
Main Board Category
0081 China Overseas Grand Oceans Group Limited
0173 K. Wah International Holdings Limited
6811 Tai Hing Group Holdings Limited
1865 Trendzon Holdings Group Limited
Sustainable Development Category – Platinum
2020 ANTA Sports Products Limited
Sustainable Development Category – Gold
3613 Beijing Tong Ren Tang Chinese Medicine Company Limited
0152 Shenzhen International Holdings Limited
Sustainable Development Category – Silver
1229 Nan Nan Resources Enterprise Ltd
0698 Tongda Group Holdings Ltd
Sustainable Development Category – Bronze
2266 Lai Si Enterprise Holding Limited
Sustainable Development Category – The Best Report of the Year
3311 China State Construction International Holdings Limited
Sustainable Development Category – Carbon Management – Gold
N/A ALBA Integrated Waste Solutions (Hong Kong)
8391 Cornerstone Technologies Holdings Limited
Sustainable Development Category – Carbon Management – Silver
2020 ANTA Sports Products Limited
Sustainable Development Category- The Best Approach of Carbon Management of the Year
3311 China State Construction International Holdings Limited
Website of Quam IR Awards 2022: https://eventedm.tonghaiir.com/QIRA2022-23/EN_US/
For enquiries,
Quam IR
Marketing & PR contact:
Ms. Mandy Lo T: 2217-2753 Email: mandy.lo@tonghaifinancial.com
Ms. Charlie Chan T: 2217-2504 Email: charlie.chan@tonghaifinancial.com